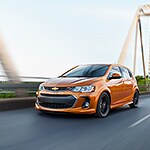 Tired of flipping through radio stations and listening to the same ten songs over and over? It's time to upgrade your entertainment experience. With the Chevrolet Sonic, you can stream your favorite playlists, podcasts and audiobooks right from the comfort of your vehicle. We're incredibly excited about this technology at Burnworth-Zollars--and once you've seen it for yourself, we're confident that you'll be excited, too.
To stream your favorite entertainment in your Chevrolet Sonic, all you'll have to do is sync up your iPhone or Android smartphone to your vehicle. You'll be able to download your entertainment right into the touch screen console. From there, it's a simple matter of using the touch screen console to pull up your audiobooks, podcasts, playlists and more.
Stay happy and keep the kids entertained with the Chevrolet Sonic. You'll never be bored in the car again.